Description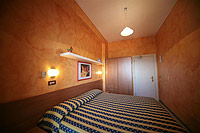 The "Stella d'Oro" is situated in a very quiet but central part of the town, with access to all shops and local amenities. You will find Hotel "Stella d'Oro", only a few hundred metres from the famous Piazza Italia; the Terme Acqua Santa through a lovely Viale of shops; and also the Terme S.Elena are very close.

There are 40 very pleasantly furnished rooms, all with private facilities, telephone, fan, hairdryers, TV with satellite dish, conditioned air, frigobar (on request) and safe.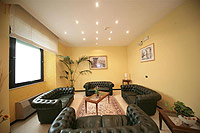 Others facilities available: 24 hour bar service, TV and reading room, private parking, and a free shuttle service to the Terme of Chianciano.

The "Stella d'Oro" Hotel has been owned by the same family for the past 40 years, and maintains its high family attention to personal service, with a cuisine specialising in traditional Tuscan dishes, and a full self-service buffet or breakfast.

We look forward to meeting you here at "Stella d'Oro" in a most beautiful corner of Tuscany, where you will be able to relax with the Thermal cures, and also enjoy some of the local cultural and gastronomic delights. During the summery period dancing evenings and animation.


HOTEL STELLA D'ORO
Viale della LibertÓ, 428 | Tel. +39 0578 62031 | Fax +39 0578 55414
Chianciano Terme 53042 Siena, Toscana
E-mail: info@stelladoro.it
P.IVA 655750529 - Trasparenza >>

Manager: GIUSEPPE CITRO